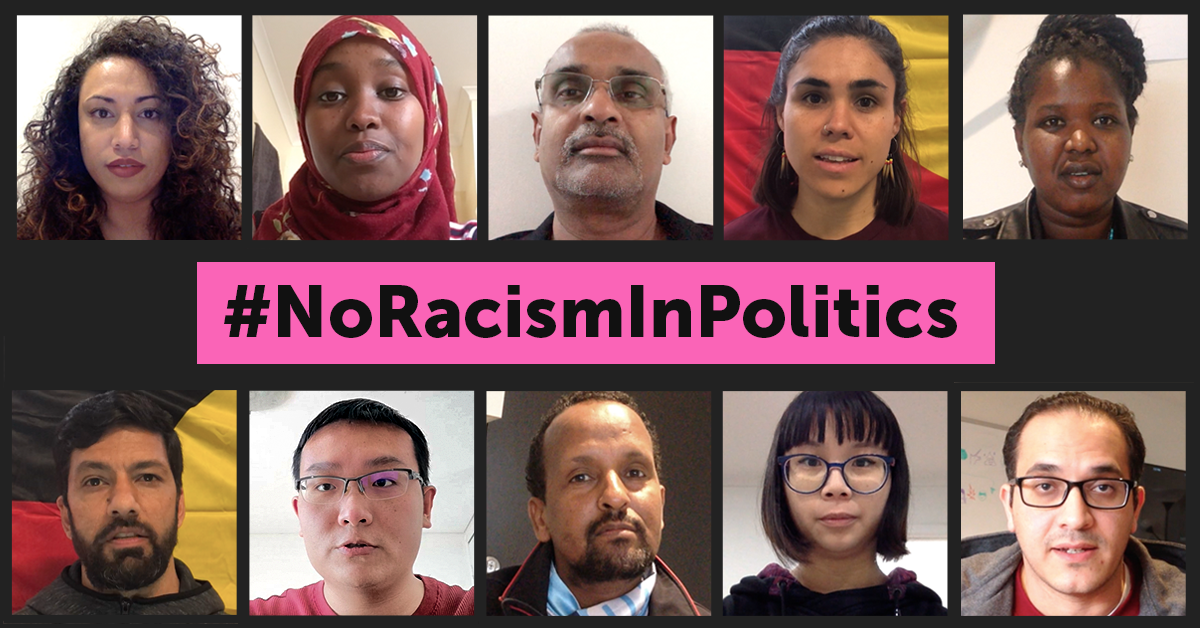 No Racism In Politics
We are an independent national movement of Aboriginal, Torres Strait Islander and migrant communities campaigning around issues of racial justice.
At the Victorian Election on 24 November, we're voting for a fair society that includes us.
For far too long our communities have been singled out by politicians or flat out ignored. But we can stand together to put the issues that affect us front and centre.
Together, we have put every political party on notice. We have independently assessed their words, actions and policies to let our communities know exactly what electing them means for
us.
Although these parties will go to any lengths to get their messages of fear and division as far and wide as possible,
we have people power on our side.
We can all work together to change the narrative and take action to achieve migrant and Aboriginal and Torres Strait Islander peoples' rights.
Where do the parties stand on our issues?
To work this out, we began by surveying Colour Code members to find out the issues that were important to them. They voted for these issues:
A Treaty with First Nations peoples, lead by First Nations peoples
Actively stopping politically motivated attacks on communities because of their race, religion or language
A commitment to multiculturalism policies, equality and inclusion
Policies to stop discrimination in all areas of the legal system
Policies that combat discrimination in hiring practices
Policies to ensure migrants prior work and study is recognised
Programs to ensure equal representation in politics and media
Next, we surveyed political parties and asked them where they stand on each of these issues. We also researched party policy platforms and statements from spokespeople. You can find a detailed scorecard including survey response information and our research
here
.
You can read full policy survey responses from the parties who responded by clicking the links below:
ALP
Animal Justice Party
Australian Greens
Fiona Patten's Reason Party
Health Australia Party
Hudson4NV
Liberal Democrats
Sustainable Australia
The Australian Country Party, Democratic Labour Party, Derryn Hinch's Justice Party, Liberal Party, Shooters, Fishers and Farmers Party, Transport Matters Party and Victorian Socialists did not respond to our survey.
Next, we produced a simplified scorecard. This scorecard includes all parties who have a decent chance of being elected, based on past electoral success.
#NoRacismInPolitics Victorian Election Scorecard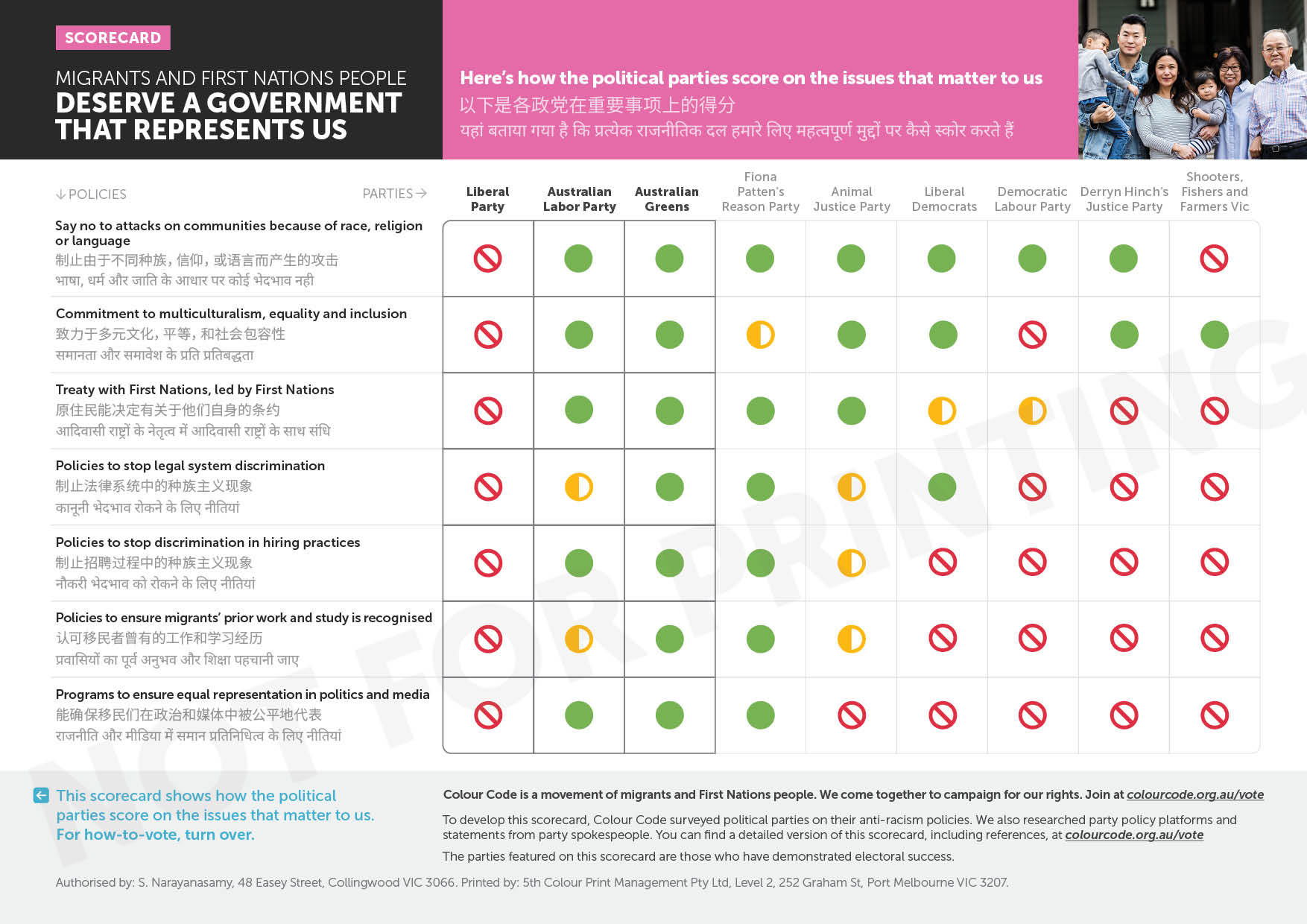 Finally, we produced a voting guide, featuring the parties who performed the best on our scorecard.
You can download a PDF version of our #NoRacismInPolitics Scorecards and voting guide here
Any questions? Get in touch! Simply send us an email at
[email protected]
JOIN COLOUR CODE
Let's unite to stand for our rights.

Add your email below to join the movement!
---
---
In taking action, I agree to GetUp's Privacy Policy.